Enterprise City: Launch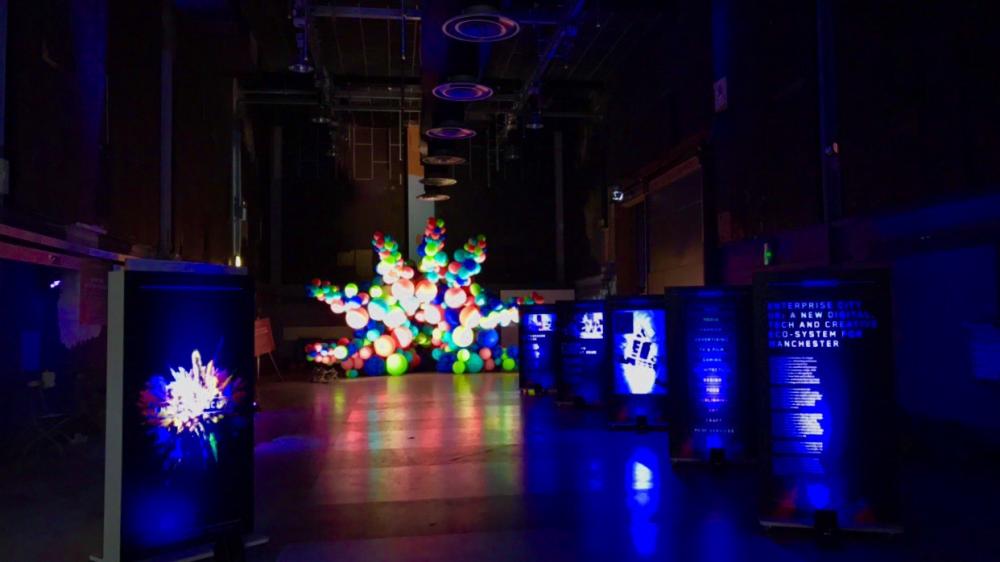 On Wednesday 26th April, a few of the Wool Digital team headed off to the launch of Enterprise City, hosted by Allied London just next to our HQ at Old Granada Studios.
Firstly, all visitors were greeted with a coloured wrist band which reflected their area of expertise (we were all proudly rocking tech silver) before walking into a dark warehouse which was lit only by standing screen lights and a huge balloon sculpture at the back of the room.
Now this balloon sculpture was the thing of dreams; colourful, explosive and also housed a perfect gap to stand in for photo opportunities, which of course, I obliged in.
We entered to hear all about the Enterprise City development presentation by Michael Ingall, Chief Executive of Allied London, who presented the ins and outs of what the launch was all about.
The day was filled with some great presentations by some of the north's best creative minds along with a plethora of amazing food (the key seller of a great event for me).
After the initial excitement, we needed some form of coffee and Idle Hands were on *ahem* hand to oblige, with a gorgeous cappuccino and a huge slice of the best blondie (if you haven't ever had the joy of experiencing a blondie, it's essentially a white chocolate brownie) i've ever eaten I was ready to listen to some great talks.
Soulmatefood brought along some super healthy treats, meals and drinks and I was completely overwhelmed by the taste of their bao buns and colourful salads. I can only dream that I get to indulge in some more Soulmatefood in the future.
For the evening slot, Beastro provided a selection of canapes to tickle everyone's fancy which explored the key flavours we love to indulge in. I can safely declare that the canapes were delightful.
Finally, we hit the open bar for some amazing cocktails, which were courtesy of Escapade, and chatted to some of the smartest minds of Manchester.
So, you've read that we went to a fancy launch party event and LOVED it (and sorry if I made you hungry), but what is Enterprise City all about?
Enterprise City is Allied London's approach to the support and growth of entrepreneurship in Manchester through the build of a completely new part of Manchester City Centre. Enterprise City will be geared towards start-ups and large scale corporates alike with a huge focus creating a community and cross pollination feel.
Thanks to the plethora of facilities which are lined up to be included in the development of Enterprise City, the area is due to put Manchester on the map, even more so than it currently is. Manchester already has the second highest growth rate in the UK, and this is something which the Allied London and Enterprise city team are key to push even further.
The key feeling of the launch event, and the various items of collateral provided, was that Enterprise City is due to be much more than a property development; it is set to be a community which is in place to help all parties flourish and create a model where businesses from around the Enterprise City group can come together to develop creative and innovative pieces of work.
Enterprise City has a real focus around the creative industries with a real focus on the following:
Technology
Media
Fashion
Advertising
TV & Film
Gaming
Architecture
Design
Food
Publishing
Art
Craft
Professional services
To give an idea of the development, which is currently very much underway, Allied London are the company behind the rejuvenation of Manchester Spinningfields, which is now one of the classiest areas of the city, and where all of the large businesses love to be. Arguably, one of the best portfolio examples around.
A key word mentioned throughout the day was 'eco-system' and the importance of creating a feeling of togetherness and support within the development, and every business which it houses from professional services to coffee shops and fashion retailer to hoteliers, the emphasis was on community.
Interestingly, there will also be the creation of a virtual Enterprise City through the creation of an app. The app will focus on the networking aspect of Enterprise City along with exploring trade, swapping of ideas, news, updates on entertainment access to the concierge and detail on all things hospitality - helping to transport Enterprise City from purely being a physical cluster of buildings.
Finally, there are three driving principles of Enterprise City:
Research, relevance and insight
A unique infrastructure proposition for manchester and the UK
A consistent ambition for growth for all stakeholders
We had a great day (and night) at the launch of Enterprise City and would love to speak to anyone else who was there to talk all things innovation, drop us a line at hello@wool.digital. We are also on all places you can be social @wooldigital.